The city of Dehradun is a popular tourist destination in India. It's a city that combines history, culture, and tradition with modernity, and it offers travellers a very diverse experience. Located in the Himalayas' foothills, Dehradun is known for its green landscapes, beautiful mountains, and gorgeous rivers. It's a perfect destination for those who love nature.
The city also has many places of historical significance, including colonial buildings, bazaars, government offices, and research institutes. Dehradun is also known for housing several temples and monetary, for example, Buddha Temple, Shiv Mandir, Tapkeshwar Temple, Sai Darbar Temple, Gurudwara, Chandrabani Temple, and many more.
Dehradun is best known for its trekking trails through forests and hills. Popular sightseeing places like Robber's Cave, Maldevta, and Sahastradhara are a paradise for adventure lovers. There are also plenty of outdoor activities available in Dehradun, including hiking and biking. You can even try your hand at paragliding! And if you're looking for someplace where you can relax after a long day of exploring nature, then places like MDDA Park, Lachhiwala, and Tapovan, are perfect for you.
There's no limit to how much you can explore on your trip to Dehradun. And planning a two-day trip in such a lively place can be difficult. But we've done the hard work for you! Here we've listed all the places you can cover in Dehradun in just 1-2 days. These are including:
Dehradun Places to Visit in 2 days
Day 1 Dehradun Places to Visit
Mindroling Monastery
Tapkeshwar Mahadev
Sahastradhara
FRI museum
Shikhar Falls
Day 2 Dehradun Places to Visit
Tapovan
Malsi Deer Park
Robber's Cave
Ram Rai Gurudwara
MDDA Park
Paltan Bazaar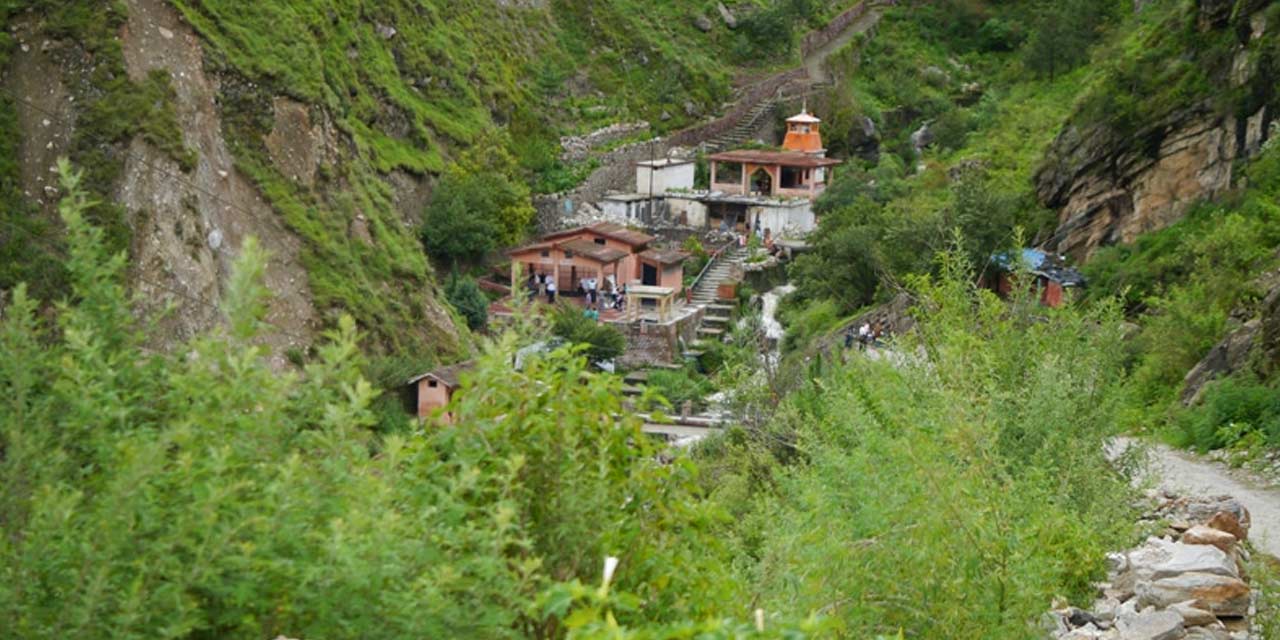 Tapovan is located near Raipur, which is just 5 km from the main Dehradun city. This holy place is a must-visit place on your Dehradun trip. The wooded willows and graceful river Ganga adds more grandeur to the beauty of Tapovan. This place is famous for holding great religious and spiritual significance.
According to legends, Guru Dronacharya, the teacher of Pandavas and Kauravas, served his penance in this tranquil forest of Tapovan. In fact, the name Tapovan has derived from this incident- 'Tapo' means penance, and 'Van' implies forest. Because of this history and religious belief, hundreds of pilgrims visit here to meditate and seek an apology for their sins.
Another factor that makes Tapovan one of the popular tourist places in Dehradun is the Tapovan Temple. The temple is also known as Rudreshwar Temple. Dedicated to Lord Shiva, the architecture of this temple is something to awe over. Apart from Lord Shiva, Tapovan Temple also has several other Hindu gods and goddesses like Lord Hanuman, Goddess Durga, and Goddess Kali. The temple welcomes thousands of pilgrims during the time of Shivaratri. It hosts a grand fair during this occasion. You can also visit the Tapovan Ashram. The Ashram ground is dedicated to yoga classes and teachings of Vedas.
While exploring Tapovan, you can find peace amidst the lush greenery and the splashing sound of the River Ganga. In Tapovan, you can meditate as long as you like, click some great pictures, or arrange a picnic with your family. Before leaving this peaceful place, make sure to buy some regional souvenirs or antiquities. You can also taste plenty of mouthwatering local dishes at neighbourhood restaurants.
Tapovan is located toward Nalapani Pani and near Raipur. Dehradun Railway station is only 7 km away. So, you can easily get a lot of taxis and buses to reach this place in no time.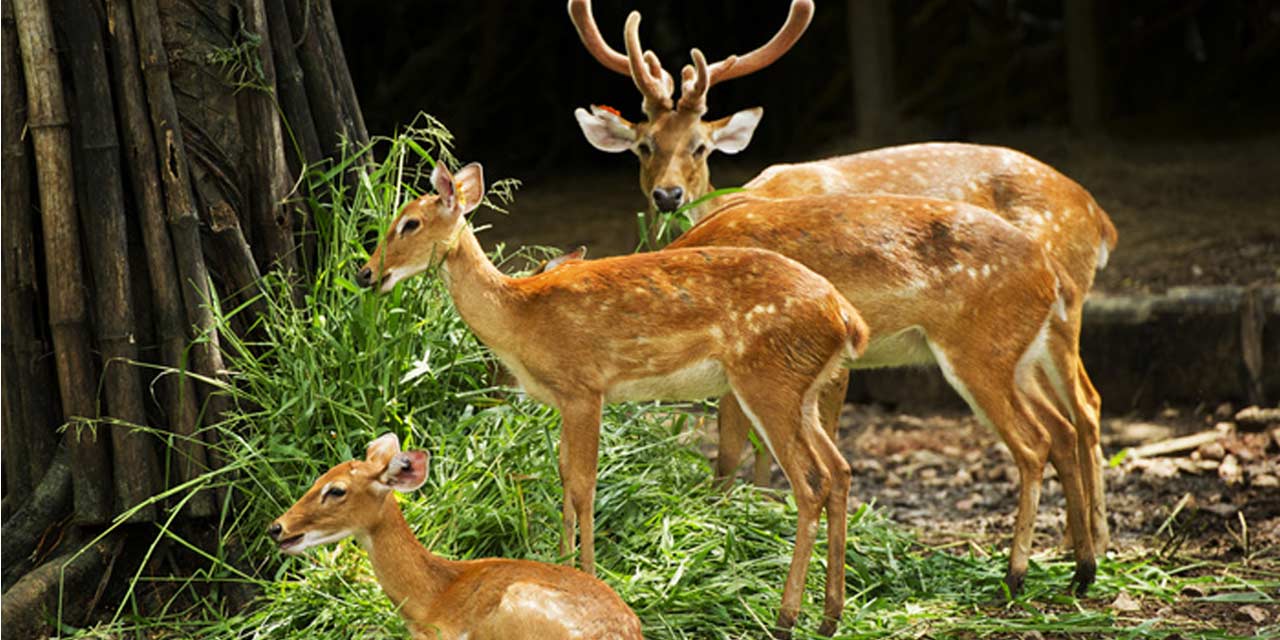 Malsi Deer Park, also known as Dehradun Zoo, has now become a famous outing and picnic spot for wildlife lovers. The wide species of flora and fauna inside the zoo is not the only reason behind its popularity. The beautiful natural scenery surrounding the park is another reason why this place greets thousands of tourists every year. Located in the foothills of the Shiwalik range and surrounded by dense Malsi Reserve Forest, Dehradun Zoo is a paradise for photographers.
This zoological park is mainly famous for housing deers in their natural habitat. Here you can see various species of deers like Nilgai (Indian Antelope), spotted deers, barking deers, and two-horned deers. While exploring the park, don't forget to take a few clicks of young deers munching on the grass or playing under the sun.
Although Dehradun Zoo was initially established as a deer park, now it's the home of several other wild animals. In the park, you can witness Leopards, Rabbits, Crocodiles, Turtles, and many more animals. You can also see various species of birds like Peacock, Emu, Macaw, Turkeys, Parakeet, Ostriches, Owl, Eagle, African Grey Parrot, Love Bird, Vulture, and Black Buck, Budgerigar, Golden Pheasant, Silver Pheasant, etc.
Apart from observing the variety of birds of animals inside the park, you can enjoy having a picnic with your family. The park authorities have established a playground with several rides and slides for children. You can allow your kids to play in the playground while you relax and admire the natural beauty around the park.
Dehradun Zoo or Malsi Deer Park is only 10 km away from Dehradun at Mussoorie Road. You can reach the park by hopping on a local auto rickshaw, bus, or taxi.
3. Shikhar Falls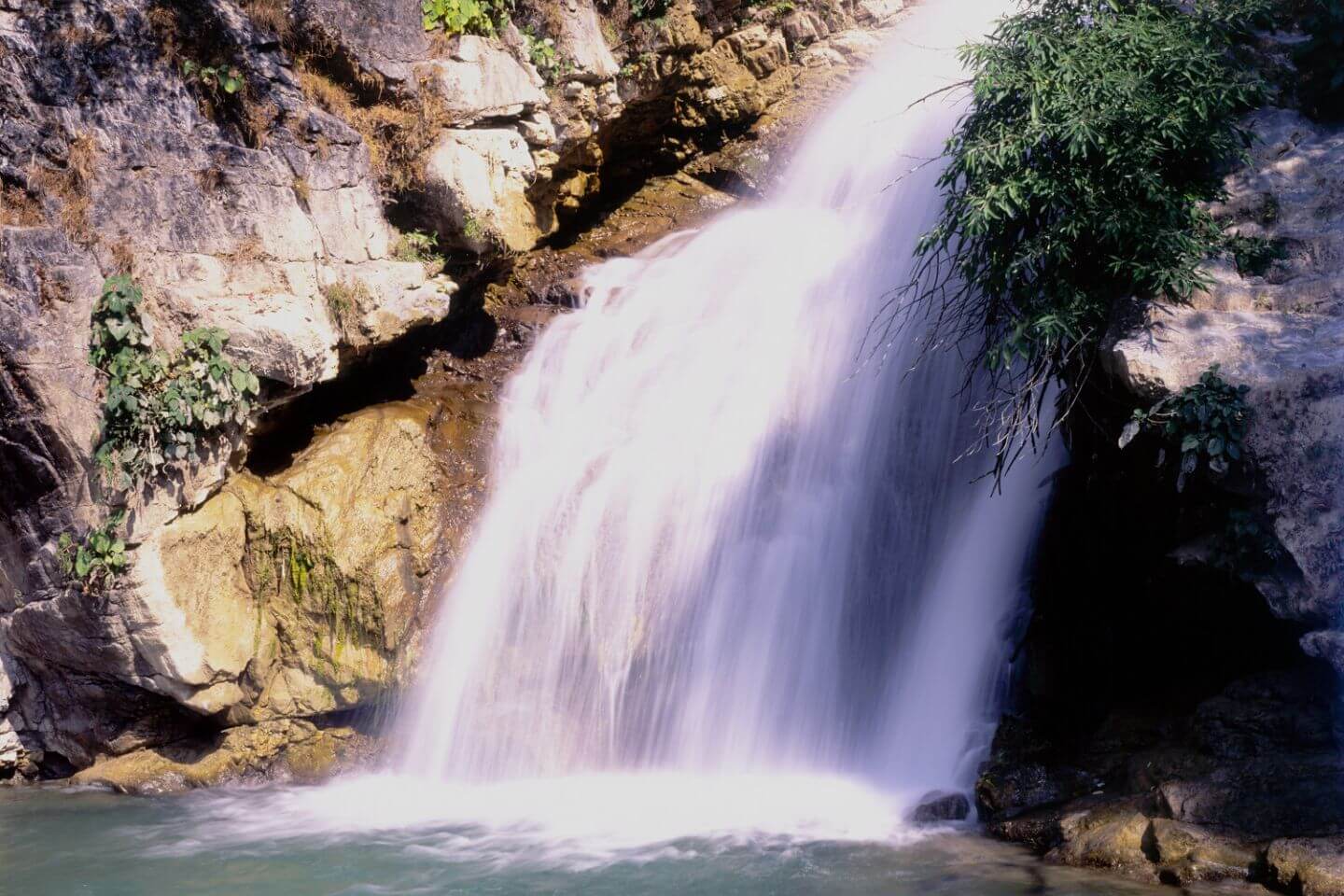 Sikhar Falls is a hidden gem tucked away in the Kairwaan village of Dehradun. Adventurers love to visit this place to spend some alone time listening to the gurgling waters of the falls or observing the scenery around them while sitting on the rocks.
After parking, you have to hike about 1 km on the rough terrains to reach the waterfall. You can see several small and large shallow pools on your way uphill. During the hike, you will hardly find any crowds as this is an offbeat location in Dehradun. On your way to the falls, you will come across various species of chirping birds, beautiful butterflies, and wild flora. The surrounding woodlands and rich vegetation add more jewel to the beauty of Shikhar Falls.
However, the road to reach the waterfall is strenuous. Especially if you're visiting during the monsoon, expect the roads to be a little slippery and steep. So, make sure to wear sturdy and comfortable shoes. Also, we advise you to return early from the trip since the place is located in a secluded area. From Dehradun city, Shikhar Falls is located at a 13 km distance. You can book a cab from top car rental companies in Dehradun to reach the Kairwaan village. And after parking, commence a short trek to reach the waterfalls.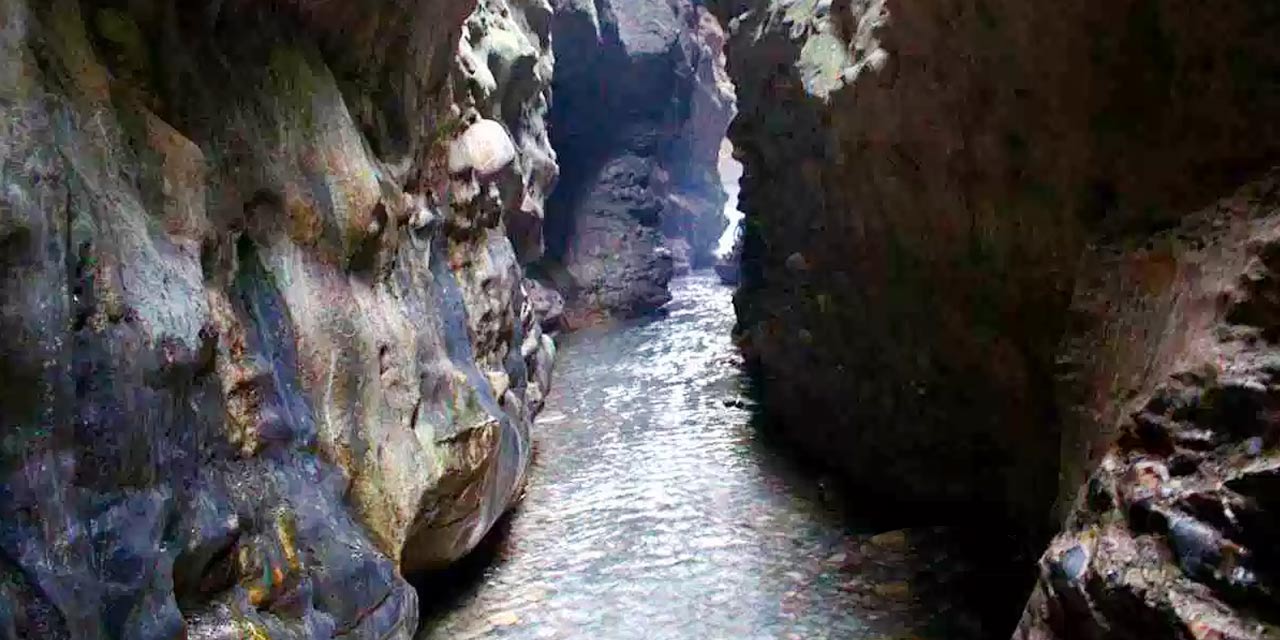 Robber's Cave is a naturally formed cave where a river flows inside the cave. The river cave is located near Sahastradhara and is famous as Guchhupani among the locals. According to local legends, during the British era, robbers used to hide their lootings and themselves from the British. This is why they kept the name Robber's Cave.
At present, this natural wonder is a popular picnic spot. Here you can sit by the water and enjoy the cool breeze. If you're looking for a thrilling experience, walk inside the cave and admire the unique stone construction. Robber's Cave is also favoured by the shutterbugs, who often get to the place to capture the scenic beauty.
The most wondrous thing about the robber's cave is the strange occurrence of a stream of water. The stream of water naturally appears inside the cave and abruptly vanishes under the ground; then, after a few yards, you can again witness it reappear. Robber's Cave is about 600 metres long and divided into two main parts by a waterfall. The highest fall inside the cave is about 10 metres long.
The best time to visit this calm and beautiful place is during summer and monsoon. During monsoon, the stream water of the cave flows lavishly through the narrow gorges. And while visiting Robber's Cave, carry a pair of extra clothing, as the gushing water waves inside the cave can very much drench you.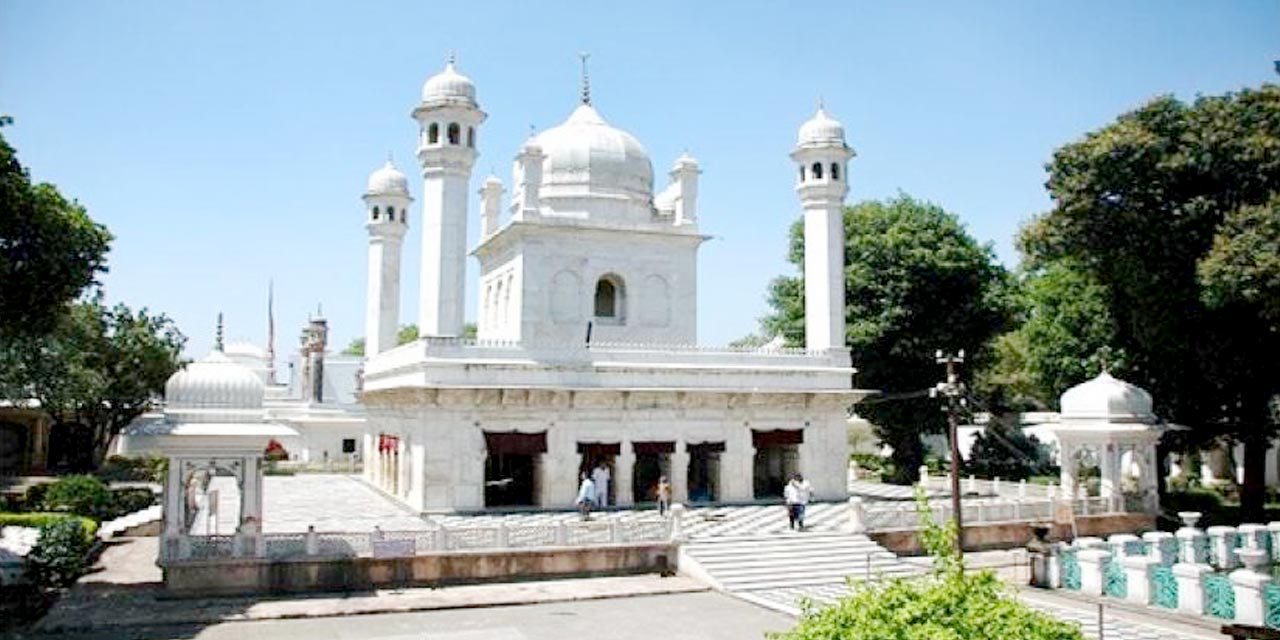 No matter where we travel, our heart always seeks peace and serenity. And one such place that surely helps you find peace is the Guru Ram Rai Gurudwara. Built in the 17th century by Ram Rai, it is known as the oldest Gurudwara in Dehradun. This pilgrimage centre is a popular place of worship for the Sikh religion. However, many devotees from different religious communities also visit this place as it holds great historical and religious significance.
The architecture of the Guru Ram Rai Gurudwara reflects the Indo-Islamic culture through its domes, murals, and minarets. The walls of the Gurudwara are adorned with various portraits of gods, sages, goddesses, and saints. You can also see bright, colourful paintings of flowers, trees, birds, and animals. The colour schemes and stoic human faces of these paintings showcase the art styles of Kangra-Guler and Mughal art.
The Guru Ram Rai Gurudwara is also popular for organising grand festivals during Holi. The Gurudwara also has a large dining hall where free meals are served to people of all races.
This famous gurudwara is situated near the Paltan Bazaar Road and Saharanpur Chowk in Dehradun. You can easily reach the holy centre by taking a bus or auto rickshaw from Dehradun railway station.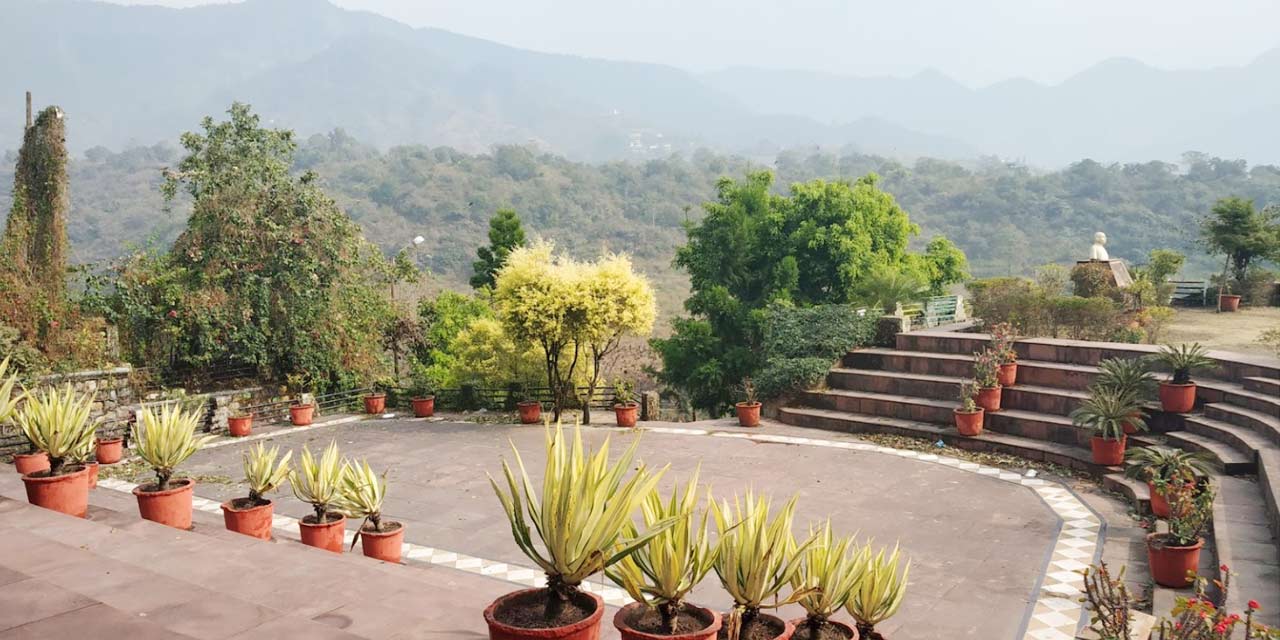 If you want to take a break from an all-day outing and relax amidst nature, MDDA park in Dehradun is the place to be. MDDA park is also known as the Rajpur Road Park among the locals, as it is located at Kairwaan village on Rajpur Road.
The best attraction of this place is undoubtedly the hillside view. Along with the view, the MDDA park also boasts lush gardens, fountains, a jogging area, benches, and canteens. Tourists also get awed by this park's breathtaking sunrise and sunset view. This beautifully maintained park has a kid playground area with slides and swings. So, if you're visiting with kids, they'll surely have a memorable time here.
You can visit MDDA park throughout the year; however, the best time would be during the months of July-September. You can witness mist-covered mountains, colourful flower beds, and a gorgeous river flowing nearby during this time.
MDDA park is located at a distance of 9 km from Clock Tower. So, it's a favourable distance to explore some of the nearby attractions like the Buddhist Temple, Sahastradhara, and Robber's Cave.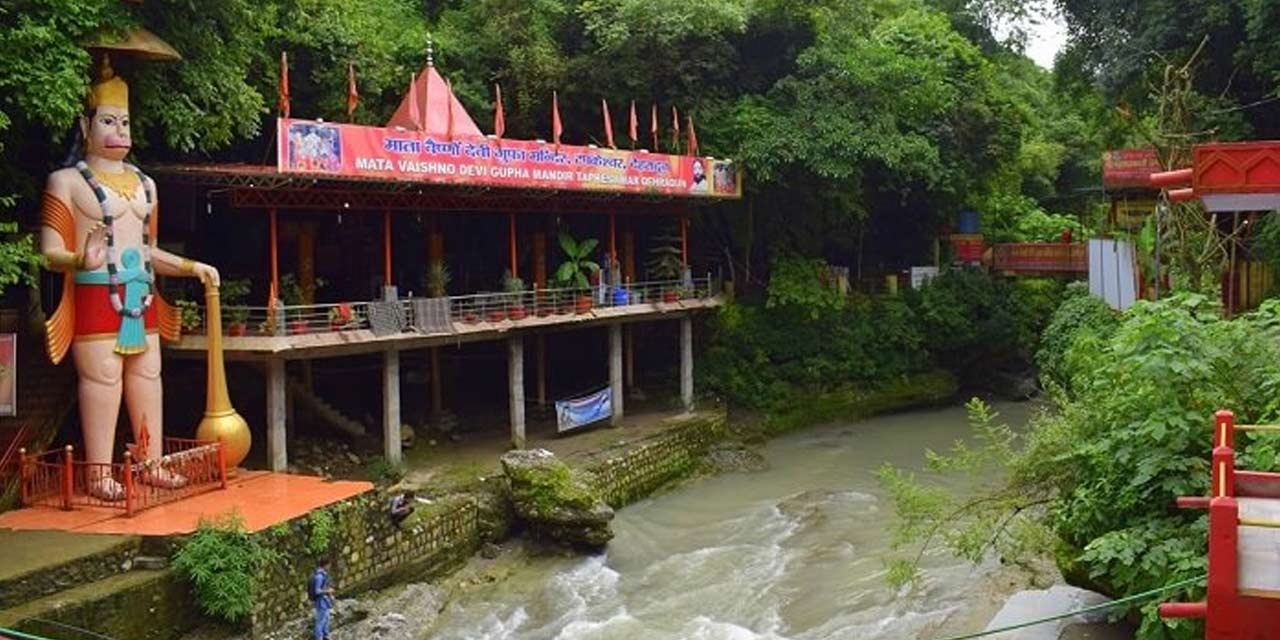 The oldest and most sacred Tapkeshwar Mahadev Temple is a cave temple located on the banks of the river Tons. The temple is famous for the idol of Shiva Linga, where water droplets continuously fall from the cave ceiling on top of the Shiva Linga. The name Tapkeshwar (Tapak means "drop" and Eshwar means "God") is literally inspired by this natural phenomenon. According to Hindu legends, this temple used to be the abode of Guru Dronacharya (teacher of Pandavas and Kauravas).
The Tapkeshwar Temple strongly resembles the Hindu architectural style. Apart from the Shiva Linga, the temple also established a large statue of Lord Hanuman. The main shrine of Tapkeshwar Temple is built within a natural cave. And while exploring inside the temple, you can see idols of various Hindu Gods and Goddesses like Vaishno Devi.
In Tapkeshwar Temple, you can offer your prayers to Lord Shiva and then sit by the river. You can also enjoy the mesmerising view of the surroundings as the temple is nestled between two hills. In addition, if you want to try out some local dishes in Dehradun, plenty of food stalls are available nearby.
Any travel plan remains incomplete without adding shopping to the list. And that's why Paltan Bazaar deserves to be on this list of top tourist places in Dehradun. This busy and lively market is located near Dehradun Clock Tower and stretches over 1.5 km. From clothes, and accessories, to handicrafts and fancy household stuff, here you'll get everything you're looking for.
If you want to take some souvenirs with you on your way back home to Paltan Bazaar, you can purchase local apparel, artworks, spices, and stationery items. Here you can find great collections of handwoven woollen garments that are both fashionable and affordable. Paltan Bazaar is also famous for selling local aromatic spices. So, make sure to buy some spices for your friends and family.
---
That's the list of Best Sightseeing Places you can visit in Dehradun in 2 days. This hill station is one of the best places for weekend getaways. From beautiful natural scenery to architectural wonders, Dehradun has a lot to offer. So, if exploring the entire city in 2 days seems overwhelming, you can always extend the trip to 3 days.